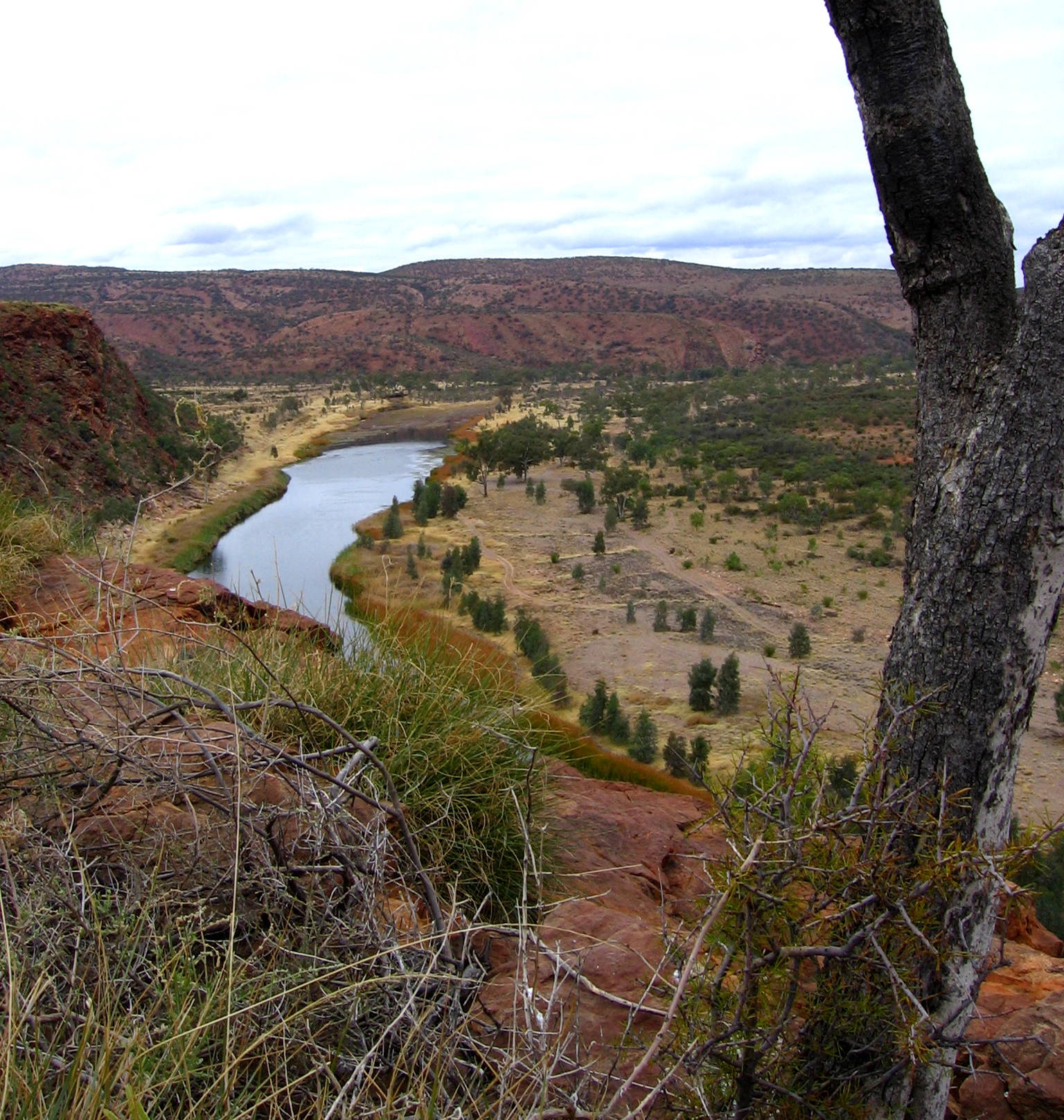 Spectacular Finke Gorge National Park covers an area of 46,000 hectares and includes the impressive Palm Valley.
Palm Valley is home to a diverse range of plant species, many that are rare and unique to the area, including the red cabbage palm (Livistona mariae), which gives the area its name.
There are around 3,000 adult palms and thousands of juveniles, which are extremely sensitive to visitor impact.Visit the park to see the mesmerising landscapes that inspired the renowned watercolourist Albert Namatjira who was born and grew up in the nearby community of Hermannsburg.
The park is dissected by the Finke River, believed to be one of the oldest rivers in the world.
The Park lies 138 km (about 2 hrs)west of Alice Springs.
Turn southoff Larapinta Drive just west ofHermannsburg. Access along thelast 16 km of track is limited tohigh clearance 4WD (four wheeldrive) vehicles only.
Part of thislast 16km follows the sandy bed ofthe Finke River. Heavy rains maycause this section of the track tobe impassable. The track from thepicnic area to Palm Valley is notsuitable for trailers or caravans.
The Park is accessible all yearround except when the Finke Riveris in flood. The cooler months(April to September) are the besttime of the year to visit. 

Camping - A campground with toilets, showers, and gas barbecues is provided. Camping fees are payable on site (cash only) and camping is only permitted in designated areas.
Remember to collect firewood before entering the park. Fires are to be lit in communal firepits only. Basic supplies are available from Hermannsburg. Picnicking - A picnic area is available for day visitors. 

Walking - The following walking opportunities exist within the Park: Kalarranga Lookout (1.5km, 45 minute return) is an easy 20 minute climb with spectacular views of a rock amphitheatre encircled by rugged cliffs.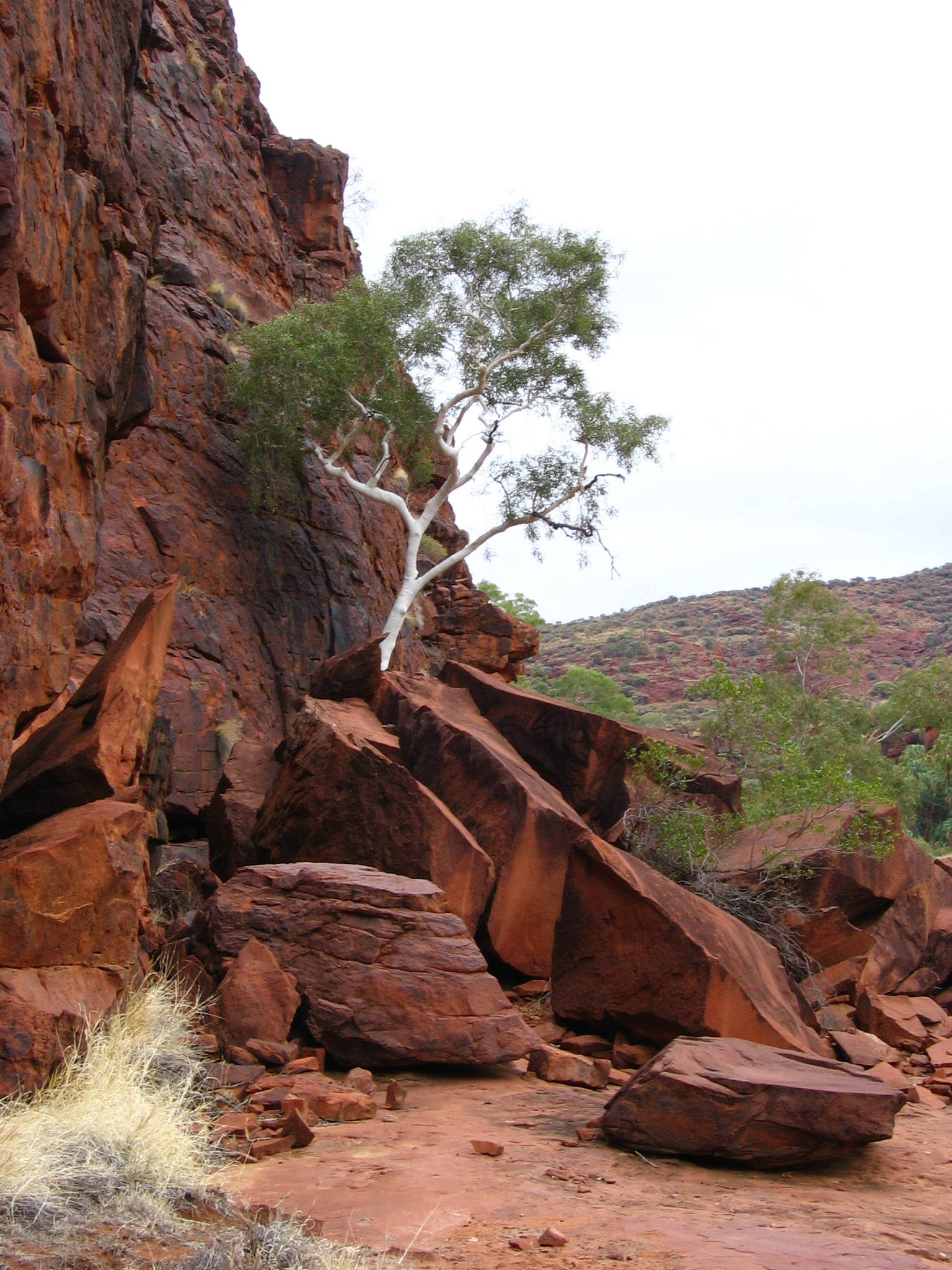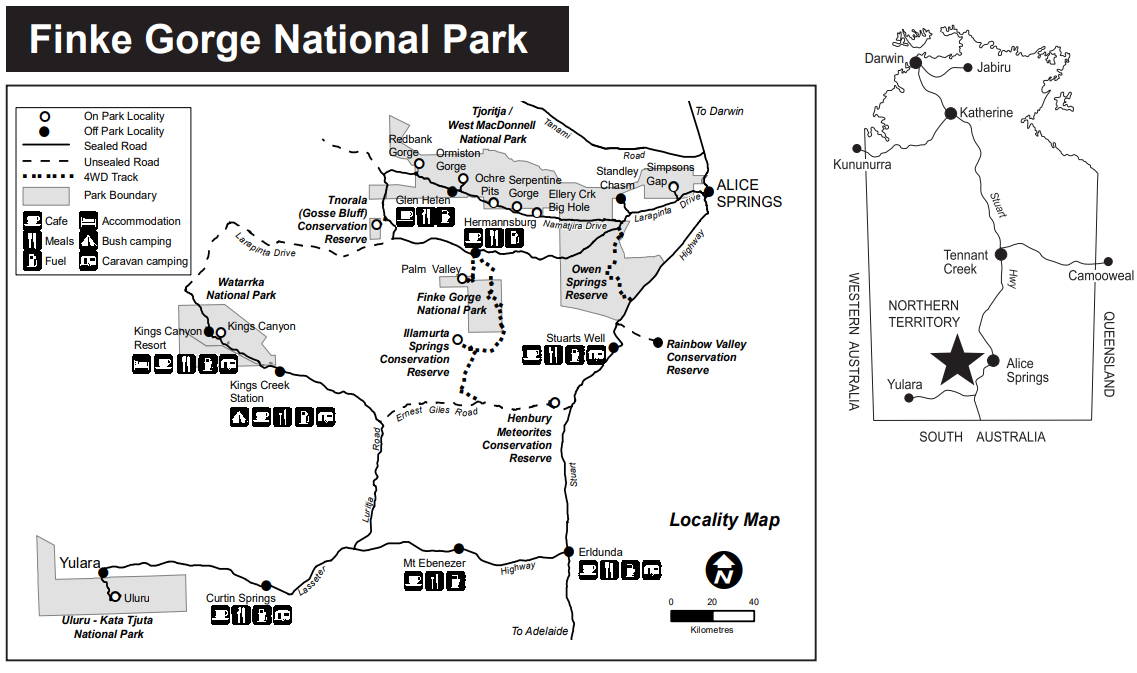 The Mpaara Walk (5km, 2 hoursreturn) begins at Kalarrangacarpark and introduces some ofthe mythology of Western ArrernteAboriginal culture. Walkers will berewarded with beautiful views ofthe ampitheatre.

In Palm Valley, the ArankaiaWalk (2km, 1 hour) and the longerMpulungkinya Walk (5km, 2 hrsreturn) meander alongside a lushoasis of slender palms and returnto the carpark across the plateau.
Four Wheel Driving - a4WD route down theFinke River to Illamurta Springsand Watarrka National Parkbegins at Hermannsburg. Thistrip requires careful planning andpreparation and is for experiencedfour wheel drivers only.